Have you got one of these beauties in your garden? If so, you must share my enthusiasm for it, the abundant colorful flowers cannot be missing from any Mediterranean garden. It is a delight to look at in the summertime.
Trouble is, that it needs regular maintenance especially really drastic cutting back in the springtime. And be prepared, bougainvilleas have nasty thorns so wear gloves and shoes with thick soles. (it's easy to step into a cutting, and end up having a big spike in your sole) You will need secateurs and a sharp saw too.
So lets get to work!
Overgrown bougainvillea. Its good to do pruning before the plant starts to shoot.
Cut all cris-crossing branches, that can rub into one another, also make to whole structure of the plant more airy, getting rid of some old branches and cutting back shoots that grow the wrong direction.
Always remove branches from the base don't leave "coat hangers" as the plant is going to bring out multiple shoots from those and won't concentrate on flowering instead.
Lanky shoots should be cut back to 1/3rd of the original shoot. They should be collected and deposited in a safe place.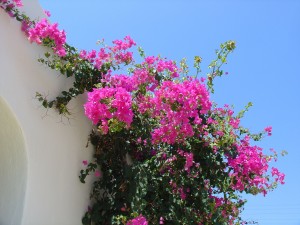 Don't be afraid, the more you cut the more the plant is going to bounce back and reward you with fabulous shower of flowers in the summertime.
Need garden maintenance? Contact us here to get a free quote!
It's 2014 beginning of July and this is the bougainvillea that I pruned in March: