Paros is an up and coming holiday destination in Europe, it has got a reputation of unspoiled natural beauty and authentic Cycladic experience.
The island is not as bustling as nearby Mykonos or Santorini, but this is one of the reasons that Paros is a popular choice for families. The mix of beautiful beaches and the activities offered by this Greek gem island makes visitors coming back year after year.
Situated in the middle of the warm Aegean Sea in the heart of Greece. It belongs to the Cyclades islands group that consists of 39 islands of which 24 are inhabited. Paros is the third biggest island after Naxos and Andros in the Cyclades with a coastline of about 120 km and around 13.000 inhabitants.
What to do on Paros?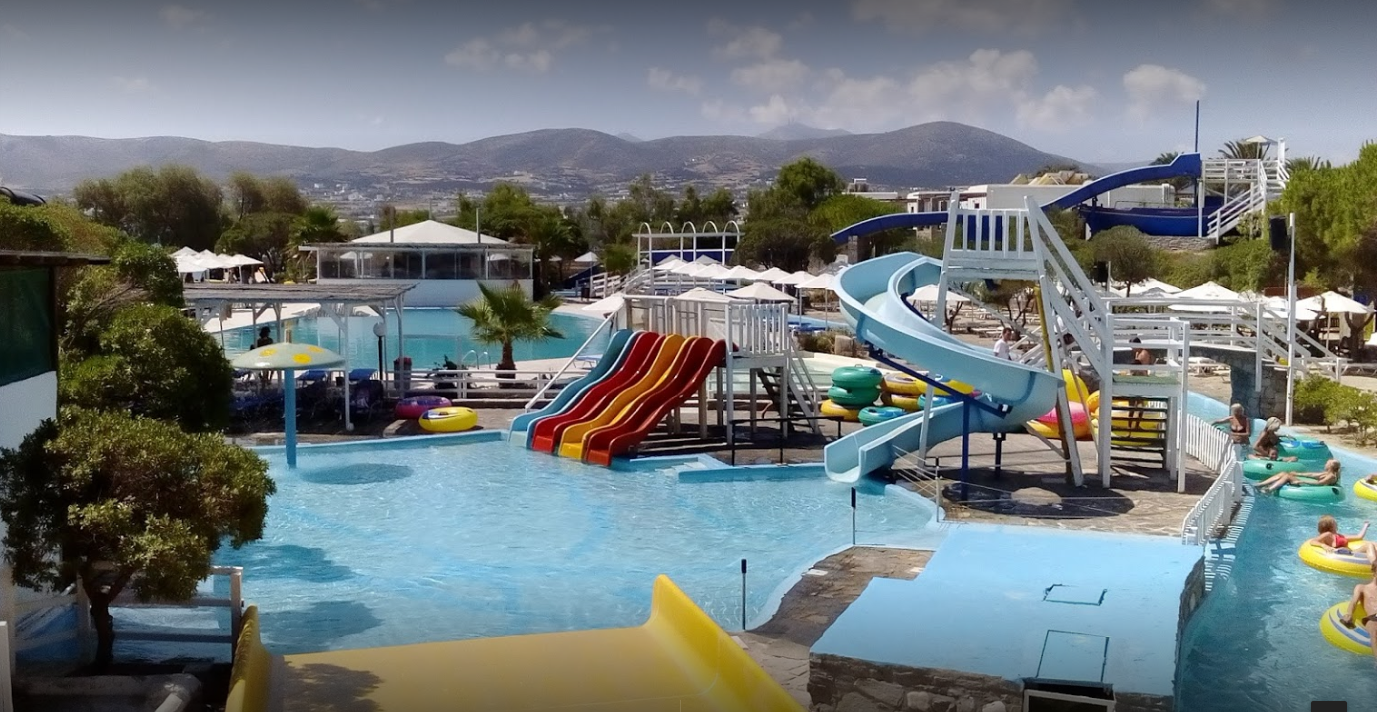 Apart from the obvious relax and unwind on one of the more than fifty crystal clear beaches and family taverns, Paros has to a great water-park, called Aqua Paros at Kolimbythres bay close to Naoussa.
This park is very popular with smaller and bigger kids alike, as there are water slides for all ages, pools of different sizes, a lagoon where you can float around in oversized floaties and there are daily activities like dance-with-me or aqua aerobics classes. This salt water pool paradise is a guaranteed hit with the family.
The Environmental & Cultural Park of Paros is a theme park also close Kolimbythres bay, with great geological and historical importance. A pioneer of its kind in the Cyclades, Paros Park is based on voluntarism and welcomes visitors year-round for a variety of environmental and cultural activities.
This beautiful environment provides a home to many music festivals and athletic events all year round. Throughout the summer months Cine Enastron, an open air cinema offers free screenings under the stars in a great amphitheater venue.
As the park is a nature reserve, there are 3 hiking routes – one of them leading up to the Lighthouse of Paros – with great views and of variable difficulties. The natural flora and fauna are at it's best in the springtime, when the park is dazzling with wild-flowers, among them, many of indigenous orchids of Paros.
In the summertime the beautiful beach called Monastiri is the most popular in the area, there is scuba diving, sailing or surfing lessons or you can rent water-bikes with slides and have lots of fun under the Greek sun!
The Archaeological Museum of Paros was founded in 1960, in a room built next to the High School of Parikia opposite the church of Ekatontapiliani meaning the Church of hundred doors, that is a splendid orthodox church and worth a visit too. It is one of the most important museums in Greece because of its exhibits, which were found in excavations on Paros and Antiparos.
These findings date from the Neolithic period to early Christianity, and include: the Nike of Paros, Cycladic figurines, mosaics, the Archaic marble statue Gorgon (according to the myth, Gorgon was a monster that terrified and petrified those who faced it), kouroi, the poet Archilochus, amphorae from a Parian workshop, deities, and many more.
Family stays on Paros
While some families enjoy the hotel environment and the amenities they provide, on Paros there are no big resort hotels, given the size of the island and the relatively short summer season.
Hotel rooms tend to be small hence many families opt for renting private houses or apartments. There is a wide variety of holiday home accommodation for all budgets, with or without additional services.
These private vacation rentals on Paros offer a glimpse of how the local life really is, and provide the hassle free holiday that families crave with their own kitchen, garden, BBQ or even private pool in and peaceful environment.
What is the easiest way to reach Paros?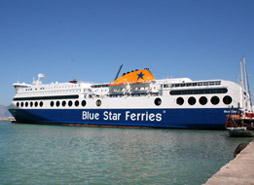 Paros is one of the lucky islands in Greece that has got excellent transport links, and called the hub of Cyclades.
Fast and regular ferries are arriving to the island every day, with vessels starting out in Piraeus or Rafina port and there is also a circular route with boats connecting the Cycladic islands to Paros.
Many choose to fly into Mykonos and Santorini with a charter flight and opt to take a short boat ride to Paros.
Certainly, the most comfortable way to reach Paros is by plane and in the season there are up to five fights a day from Athens airport. A local travel agency Polos Tours provides a great option to see al ferries and plains and book the tickets online, see www.polostours.gr
All in all, Paros is an international destination with many activities, a beautiful, safe and healthy environment. Weather you are after a romantic holiday as a couple, spending quality time with the kids as a family or just pure relaxation Paros has something to offer to everyone! We, as locals enjoy the easy going, laid back lifestyle, warm climate and fresh, healthy produce made into delicious island dishes and would love to share the experience with you! And remember, to Paros you never come only once…..
When lunch arrives, I begin talking to a sun-kissed Englishman who used to work in publishing. I ask him how long he's been here. 'Ten years ago I came over for a week to clear my head,' he says. 'I never left.'
"When lunch arrives I begin talking to a sun-kissed Englishman ..I ask him how long he's been here. 'Ten years ago I came over for a week to clear my head,' he says. 'I never left.'"