Many travelers puzzle over the question which area to stay when on Paros: close to Paroikia, the port city or Naoussa, the city on the north side? This question is unique to Paros island, as most of the Cycladic islands have only one city – and that is generally the port of the island, often called Chora. Paros on the other hand as got two well developed cities and a ring-road that connects settlements. This ring-road (called Periferiakos) makes it very convenient to discover Paros island as opposed to other islands wherefrom the Chora routes are leading to villages and you usually have to return to the port to get started to another direction, as in the case of Naxos, Mykonos, Sifnos or Folegandros.
But back to our original question: where is it better Parikia or Naussa? My answer would be it doesn't matter, as long as you find a comfortable home – let it be an apartment or a villa- where you feel right at home and has got all the comforts that you cannot go without. Paros is not that big. You can go around the island in 1,5 hours on the ring-road. Parikia-Naoussa is only 20 minutes by car and 30 minutes by bus. Alyki – the southernmost village- is 30 minutes from Parikia. Distances are short, the only thing you should be careful with when choosing a place to stay, is that you are not too far away from the beaten track, as some houses can be far up in the mountains, where only dirt roads lead. But than again, these mountain houses usually offer such great views, serenity and privacy that it might be just the thing for you!
Parikia and Naoussa has got some distinct characteristics and you might want to consider these when choosing to stay close to one or another:
PAROIKIA
If you want to experience the magic of the real Cycladic sunset Parikia is better situated for admiring the sun disappearing into the Aegean sea.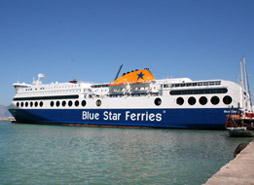 If you want to go for a day trip to Antiparos or Naxos, it is a bit easier from Parikia as the boats leave from the main port
Parikia is buzzing all year round, Naoussa tend to be very quiet during off season. If you visit Paros in in the Springtime or late autumn Parikia is a better choice as shops and restaurants will be open and busy with locals.
Accommodation tends to be cheaper in and around Parikia then around Naoussa.
Eating out is cheaper in Parikia, and there are some very good taverns serving authentic Greek dishes.
The shops are less touristy and less expensive in Parikia, although Naoussa undeniably has got some fab boutiques!
The bus terminal is in Parikia, and it is easy to commute from there towards all directions. From Naoussa you either go to Parikia or Marpissa by bus.
In the city of Parikia there are some gorgeous beaches. Livadia beach is one of the most well equipped, clean (Blue Flag) beach, and Defini is another beautiful bay just outside the city. Parasporos beach south of Parikia and Marcello beach just opposite Parikia port are two of the most popular beaches of Paros.
NAOUSSA
It's the most photographed town of the Cyclades and the old town is picture-perfect in the summer months
There is a chic vibe with trendy cafes, bars and clubs, Naoussa is the place to be in the summertime, similarly to Mykonos's "Little Venice" without being as pricey as Mykonos
– It's hard to resist shopping in Naoussa, there are plenty of unique and trendy boutiques catering to all tastes
– You will find more upscale, a la carte restaurants in Naoussa then Parikia with Mediterranean fusion kitchen
Opposite Naoussa is one of Paros's most famous beach, Kolymbithres with magnificent rock formations, a magical place! If you don't have a car you can visit it by taking a little ferry going every hour from the port of Naoussa in the summer period.
Also across Naoussa bay is the peninsula of Ai Ioannis Detis, a beautiful nature reserve with hiking routes leading up to a lighthouse and lovely beaches.
Wherever you choose to stay on Paros you will have a great time and one thing is certain, you will return!
See Homes on the West side of Paros – Paroikia side —>